Follow our tips for choosing the best coat for Autumn / Winter
The weather in the UK means a coat is an essential wardrobe item. Choosing an autumn winter coat which will work with your current wardrobe, or update your wardrobe with an on-trend style, can be very time consuming.
Buying an autumn/winter coat isn't something most people do every year, so when you do choose to buy a coat, it's important that the coat can work across trends and fashion seasons.
If you are lucky enough to be able to buy coats more regularly, this guide will still help you stay on top of the trends and choose the best coats for this season.
This year there are so many great coats to choose from, and comfort is at the top of the list for the designers. Not many people really want to go back to restrictive clothing after the freedom and relaxed dressing of WFH days. I suspect many of us may have to go up a size or two!
Before the best coats are sold out, try on your autumn/winter coat to make sure it still fits! If it doesn't, check out some of the options we have picked out to save you time shopping.
Here are some things to consider when choosing your seasonal coat. Don't leave it too late to shop for autumn winter coats, they tend to fly off the shelf!
Warmth
UK weather is unpredictable and temperatures can vary from day to day, or from day to night, so consider how warm a coat you need. If you don't spend a lot of time outside, perhaps you can have a coat which you can add a scarf or extra layer of knitwear underneath. Don't forget to go up a size, if you want to add layers underneath.
Usage
Do you need an everyday coat, or are you shopping for a special occasion. Choosing a coat which allows flexibility, which works with a number of other colours will give you more mileage for your coat.
Occasion
Some times you just need a coat for an occasion, if that's the case, then try to keep it neutral so that you can use the coat for more years.
Budget
To get the best value from your coat, considering the cost per wear, you need to take a number of things into consideration.
If you need to wear one coat throughout the Winter and perhaps for many winters, it is a false economy to buy a cheaper coat. There's nothing worse than finding that a cheaper coat falls apart after a few wears, (yep, we've all had a bobbly, buttonless mess to deal with), and then you still have to buy another coat to replace it.  Try to get the best coat you can afford, it will last longer and cost you less in the long run.

Dressing for your body shape
Not a hard and fast rule, but taking your body shape into consideration will help you look your absolute best. With four general body shapes to consider, finding the best style can take a lot of effort.
Rectangle
Rectangle's have small to medium bust size, little waist definition, straight hips that are similar width to shoulders and flat bottom, this body shape can get away with wearing most coat styles. To add shape try a fit-and-flare or A-line coat, or define your waist with a belted coat.
Apple
With a rounder, less defined waist, apple shapes should show off their best features which is often the legs. A swing coat which skims over your middle, or a coat with the detail on the collar will draw the eyes away from the middle.
Pear
Hips are wider than shoulders, fat tends to accumulate on the bottom half, particularly thighs and bottoms. Waist is usually more defined. A belted trench coat will accentuate the shoulders and draw attention to the upper body and waist.
Hourglass
Equally curvy on the bottom and the top, hourglass figures should accentuate their waist. A wrap coat, or belted coat is ideal to highlight a smaller waist.
A classic coat for taking you from Autumn to Winter and back again to Spring. One of the most versatile coats you can ever have in your wardrobe. It can be worn with layers underneath, for cooler days and nights (providing you go up a size). You can add a scarf or shawl for Parisien chic. Trench coats are one of the best Autumn Coats for women.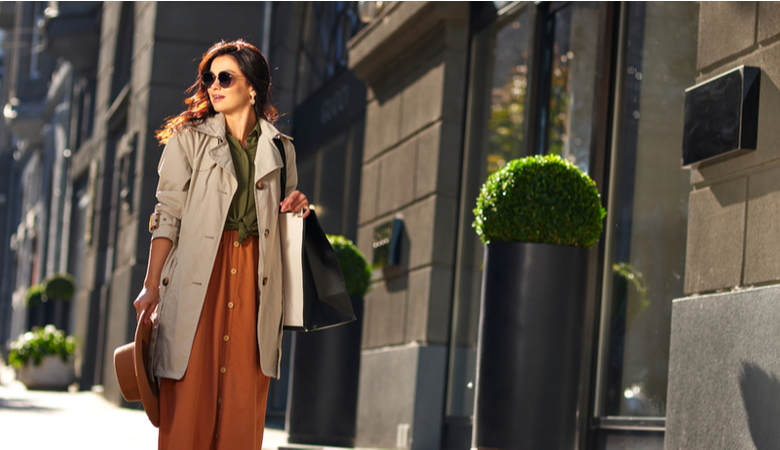 When you need to bring out the big guns a padded/puffer coat rises to the occasion. This coat will keep you insulated on the coldest days, and are usually roomy enough to add even more layers underneath. Be careful if you commute by public transport, you can be too well insulated for commuter journeys in a packed carriage.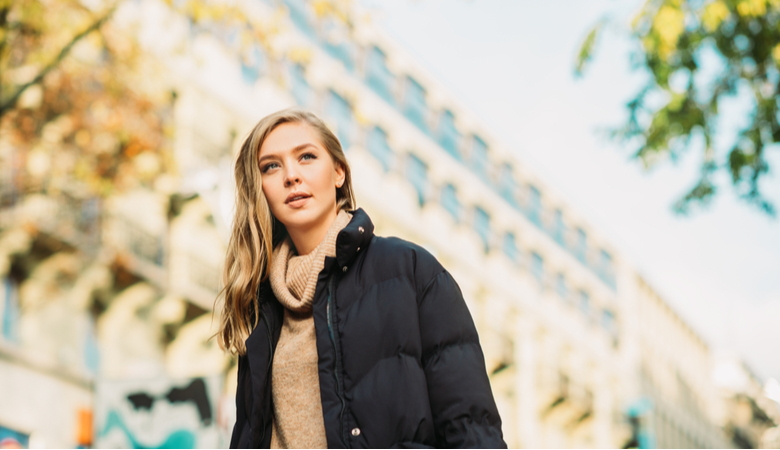 On trend this season, quilted coats are the ultimate comfort coat. Wrap up on cold days and nights and stay stylish too. These coats come in this seasons hottest colours, you will find them at every price point from High Street to Designer options.
Never out of fashion, shearling coats are a great investment piece. The AW 2021 runways have ensured that this shearling coats are one of the hottest autumn winter coats for women this season. Made from shorn sheep wool, the soft texture makes you feel comfortable and cozy.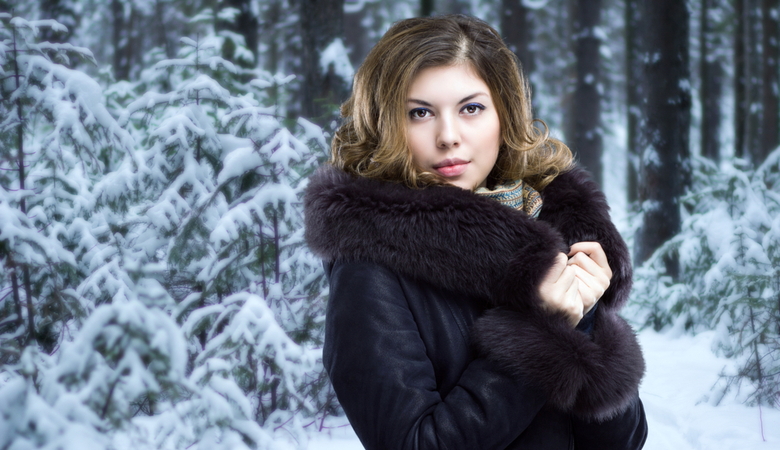 Check coats are a great retro look for autumn winter. Plaid and preppy, as well as sophisticated and mature, check coats are perfect for all ages. A great every day coat, a timeless piece which won't fade from style.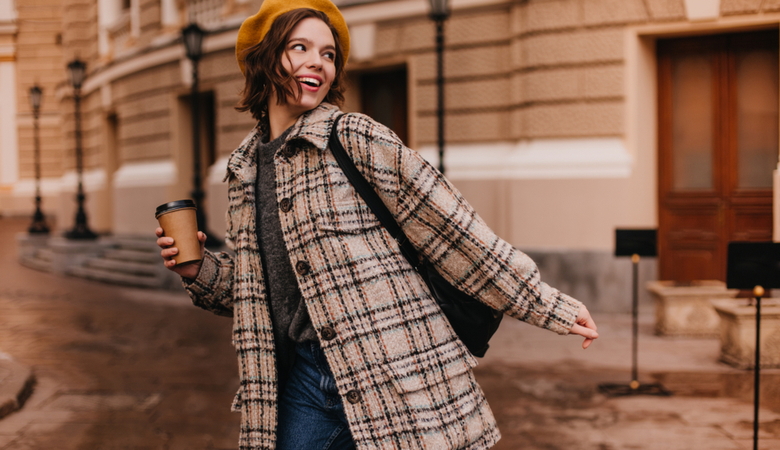 Faux Fur / Teddy Bear Coats
Want to look stylish and glamorous all day, every day? Wear a faux fur coat! No need to leave a faux fur coat for special occasions or evenings, up your glamour stakes and wear one every day. No age limit on this one, this style is for everyone.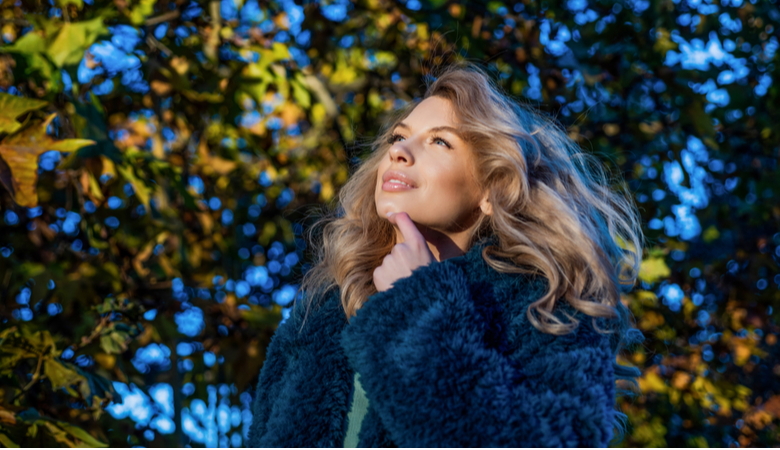 Classic and practical, belted coats are great to emphasise your waist. Wrap the belt tight to keep you feeling snug. Belted coats are available in a variety of styles, from trench coats, to wool coats and everything in between. Choose an on trend colour to stay up to date this Autumn Winter.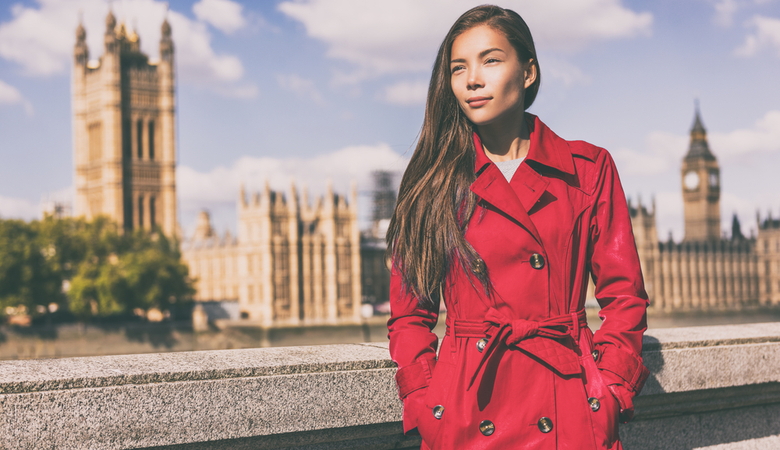 Oversized boyfriend coats are a great way to look effortlessly cool this autumn/winter. Another long lasting style, boyfriend coats have been a versatile autumn/winter coat for women for many years. Skims over the body for a comfortable, practical look.
Practical pea coats have never gone out of fashion. These coats can make you look ready for the catwalk or for a trip down to the shops. Choose a sophisticated black pea coat for an Audrey Hepburn look, or look laid back with a check version.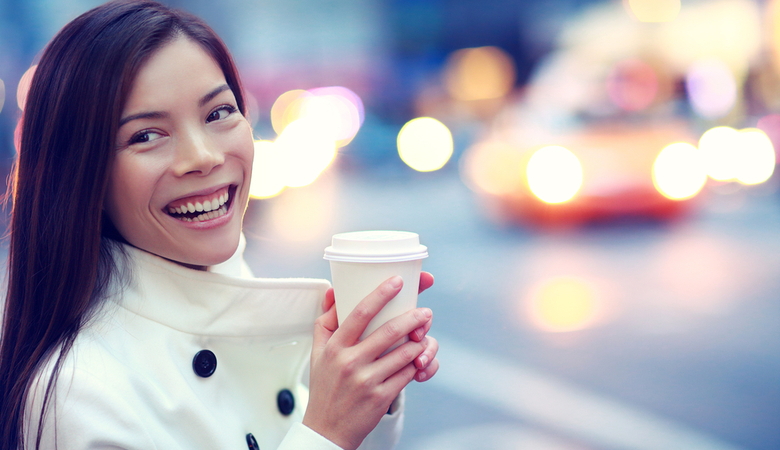 Always on trend, wool coats are a classic coat for Autumn and Winter. Update your style this winter with a new coat which will last you years. Choose a classic style or be different and stand out with a designer wool coat.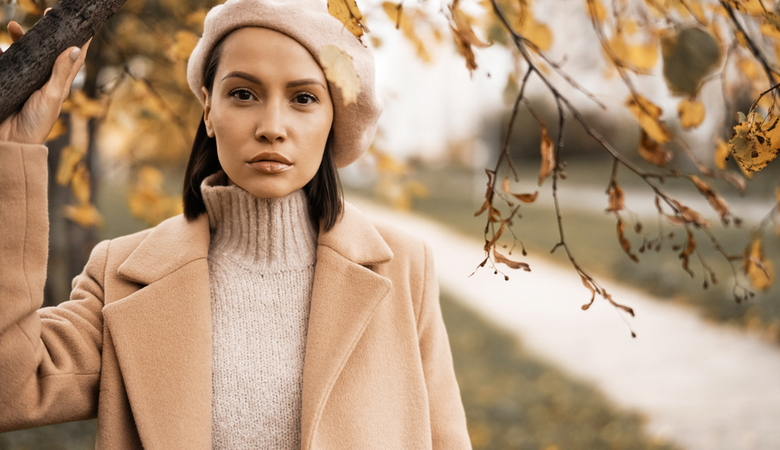 Stylish and perfect for going from day to night, wrap coats have never really gone out of fashion. Choose one in this seasons hottest colours to stay on trend this autumn/winter.
Making a statement with your coat is a great way to make an entrance. Doesn't matter what you have underneath if your coat is fabulous. A real investment piece can cost thousands, but you can make a bold statement with a fabulous high street coat.
This post contains references to products from one or more of our advertisers. We may receive compensation when you purchase one of these products.